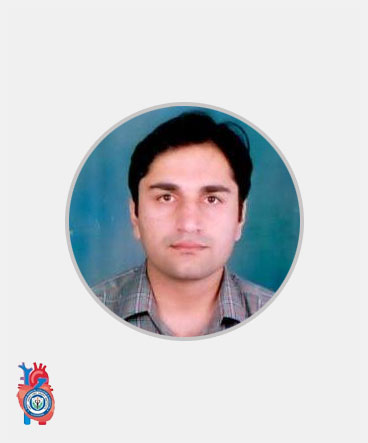 Dr. Rohit Tandon
Name: Dr. Rohit Tandon
Degree: MBBS, M.D
Speciality: Noninvasive Cardiology
Dept. Name: Cardiology
Designation: Consultant Physician.
Special Interest: Preventive Cardiology, Valvular & Pediatric heart diseases
Introduction:
He has passed MBBS in 1998 from RMC, Loni, Pune University, Maharashtra.
MD Medicine from MRMC, GULBARGA, KARNATAKA in 2003.
Fellowship in non invasive cardiology from HERO DMC HEART INSTITUTE, LUDHIANAin 2006.
Joined DMC&H as a Consultant in Oct. 2006.
He has published number of articles in various International and national Journals.
He has participated in the various national and international conferences.
Achievements:
Echocardiography Workshop coordinator: Coordinator in 2D Color doppler, 3D/4D,Stress Echo in 71 st Annual conference physicians of India 2016, Hyderabad on 30 thJanuary 2016, Hyderabad and 100 delegates attended.
Coordinator in Annual IAE (2015-2018) and in APICON (2014-2018)
Organized one day Echocardiography workshop during IMA –NATCON 2016 at SGRDAmritsar on 26 th Dec 2016.
Organized one day Echocardiography workshop during APICON 2017 at Mumbai on27 th January 2017.
Coordinate the 35 th Comprehensive course on Echocardiography at JROP Health CarePvt. Ltd Institute, New Delhi on 22 nd – 23 rd March 2017 & 36 th Comprehensive courseon Echocardiography from 17th – 18th June 2017.
Organized ECHO Workshop in the 12th World Congress on Clinical, PreventiveCardiology & Imaging- 2017 (WCCPCI 2017) on 30 th September 2017 at Amritsar.
Get Appointment Today - Sun 29

Get Appointment Today - Mon 30

Get Appointment Today - Tue 31

Get Appointment Today - Wed 01

Get Appointment Today - Thu 02

Get Appointment Today - Fri 03

Get Appointment Today - Sat 04

Get Appointment Today - Sun 05
Contact Info
Email: drrohittondon@herodmc.com
Call: +91- 9872694483